Loyola University Chicago Club Tennis Team
Loyola University Chicago


Location: Chicago, Ill.

Enrollment: 10,000 - 20,000

Mascot: Ramblers

Team Website: Click Here

Facebook: Click Here

Team Members: 100

Team Founded: 2005
Team History
The Loyola University Chicago Club Tennis Team was founded six years ago with the hope of instilling a contagious love for the game among the student body. Since then, the team membership has only multiplied; with rising numbers, the team's focus has shifted to catering tennis players of all abilities – whether former state champions or complete beginners. The early months of the school year promise great weather and tennis conditions, and with practices offered each weekday, each member develops not only their tennis game, but a strong network of friends. As the year progresses, a final traveling team is formed and competes across the Midwest. The Loyola Club Tennis Team recently competed at the 2010 USTA National Campus Championship and is very excited about making an impact on the national level.
Team Accomplishments
2009-2010 Accomplishments:
USTA Midwest Section Club of the Year
USTA National Runner-Up Club of the Year
USTA National Leader of the Year (Cam Burnett)
Ranked 34th in the nation

2008-2009 Accomplishments:
USTA National Campus Championship: Qualified For First Time
USTA Campus Championship - Midwest: Advanced To Gold Bracket
Loyola Rambler Invitational: Champions (and host)
Other Team Activities
The club program is very active in promoting a love of the game in the Rogers Park community by offering youth clinics. Additional volunteer events have included assisting with the Special Olympics and Chicago races.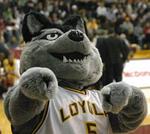 Back to Top